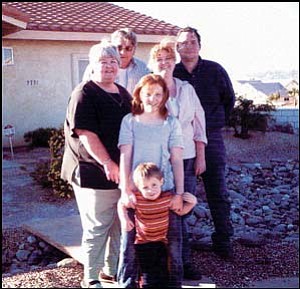 Tammy Towry's family is pictured Thanksgiving of 2005. Adults from left are Judy Perry (her mother), Sam Perry (her father), Tammy, Roger Towry Jr. (husband). Children in front are Destiny Perry and Aidan Towry. Courtesy
Stories this photo appears in:

Tammy Towry is trying to be brave for the sake of her 12-year-old daughter and 4-year-old son. But the little boy is having difficulty understanding what has happened to his world.
By Terry Organ
March 15, 2007