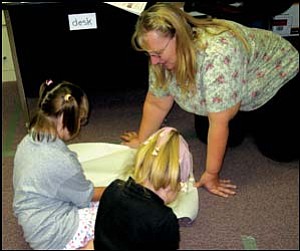 Starting young: EAGLE Academy Principal Mary Stuart looks at maps drawn by kindergarten students. The charter school starts encouraging self-confidence and building leadership skills in students from the first day they attend. GVG Photo/DONNA NEWMAN
Stories this photo appears in:

Some 200 students attend EAGLE Academy, a K-12 charter school in Golden Valley. Principal Mary Stuart's goal is to prepare them to soar into adulthood with a successful academic career behind them.