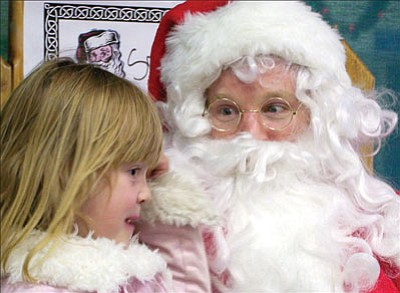 Courtesy
Santa Claus talks about holiday gifts with Callie Luke, 6. He will be all over Mohave County on Tuesday as MCC Shines lighting ceremonies occur on all four campuses.
Stories this photo appears in:

A holiday glow each evening from Tuesday to Dec. 19 is Mohave Community College's gift to the communities of Mohave County as "MCC Shines" marks its third year on all four campuses.MCC Shines began as the brainchild of the Mohave Community College Foundation in Bullhead City, and for the third year now involves all four campuses under the direction of the campus presidents.