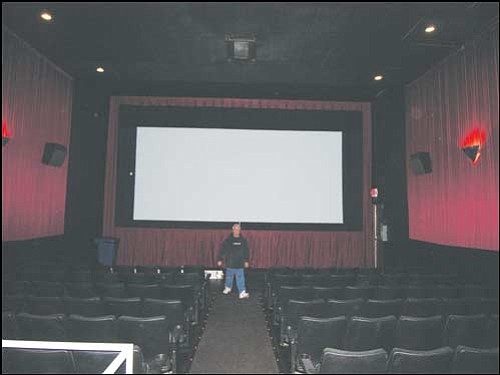 JAMES CHILTON/Miner
Manager Tom Daugherty walks up the aisle Monday in one of four theaters in the Brenden Theatres Kingman Cinemas complex. The theaters will reopen with charity showings of four movies Wednesday and Thursday evenings.
Stories this photo appears in:
Brenden Theatres Kingman Cinemas, Kingman's one and only movie theater at 4055 Stockton Hill Road, will reopen this Friday, almost exactly one year to the day after its former incarnation, "The Movies" was vacated by Cinemark.But theater manager Tom Daugherty has a surprise for those moviegoers who just can't wait three more days. On Wednesday and Thursday night, the theater will be opening early to show some of the biggest hits of 2008 Kingman missed, with all box office proceeds going to local charities.
By James Chilton
December 16, 2008