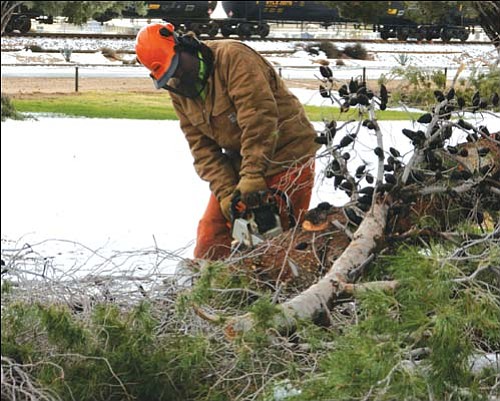 HERBERTA SCHROEDER/Courtesy
City workers have plenty on their plates after Wednesday's heavy snows caused a substantial amount of tree damage in Kingman Parks. Fireman's Park was the hardest hit, with numerous broken branches due to the weight of the snow. Sonny Symmonds is shown Thursday cutting a branch into a more manageable size at Lewis Kingman Park.
Stories this photo appears in:

Kingman looked more like the North Pole then a desert Thursday. The unusual weather closed schools and roads, made a mess for motorists and law enforcement, and created a cold but fun-filled day for children. The Las Vegas national weather station reported 3 inches of snow just south of Kingman before nightfall Wednesday.
By Suzanne Adams-Ockrassa
December 19, 2008