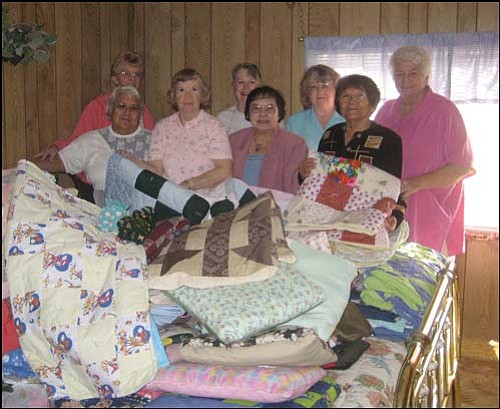 SUZANNE ADAMS/ Miner
The ladies of Sew Inclined work all year long to bring warmth and comfort to those in need. Pictured are, from left, Sharon Nalley, Sherry Jochens, Linda Arnett, Marge Windecker, Janet Westover, Donna Davis, Violet Whittaker and Mary Martinez. Sew Inclined meets and sews from 10 a.m. to 1 p.m. every Wednesday.
Stories this photo appears in:

As the weather grows colder, the hearts of some Golden Valley residents grow warmer. The eight ladies of Sew Inclined have been sewing, crocheting or knitting just about everything and anything to keep those in need warm this winter.
By Suzanne Adams-Ockrassa
November 12, 2008