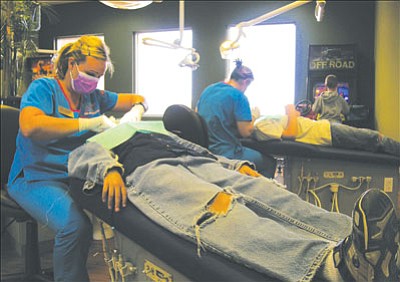 JAMES CHILTON/Miner
Kids Little Smiles hygienist Wendy Waers cleans Aaron Pozenel's teeth, while Aaron's brother, Jack, receives the same treatment from hygienist Tricia Lucero. In the background, Daniel plays an arcade game while he awaits his turn.
Stories this photo appears in:
Kids Little Smiles opens on Hualapai Mountain Road
When you first walk in the doors of Kids Little Smiles, it's hard not to notice the two-story indoor playground, the buzz of the arcade machines and the warm sound of children's laughter, and wonder whether you've come to the wrong address.
By James Chilton
November 16, 2008