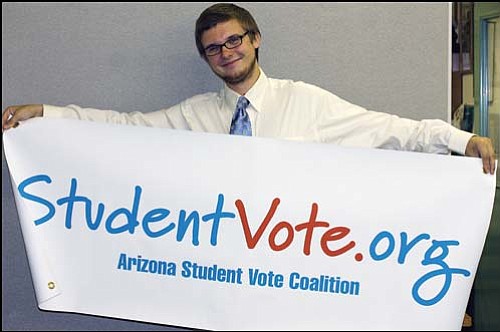 Alex Nelson of the Arizona Public Interest Research Group holds a Student Vote Coalition banner Tuesday. The nonpartisan coalition's get-out-the-vote efforts have been endorsed by more than 40 Arizona state legislators, including District 3 Senator Ron Gould and Representative Nancy McLain. JC AMBERLYN/Miner
Stories this photo appears in:

Organization hopes to get young Arizonans involved in elections
With mere weeks until the 2008 election, Alex Nelson knows that now, more than ever, is the time to get young people involved in politics. Nelson, 23, is a member of the Arizona Public Interest Research Group's Student Vote Coalition, a nonpartisan organization dedicated to registering 18- to 30-year-olds to vote throughout the state. On a whirlwind tour through rural Arizona Tuesday, Nelson stopped by the Miner's offices to discuss his efforts.
By James Chilton
September 21, 2008