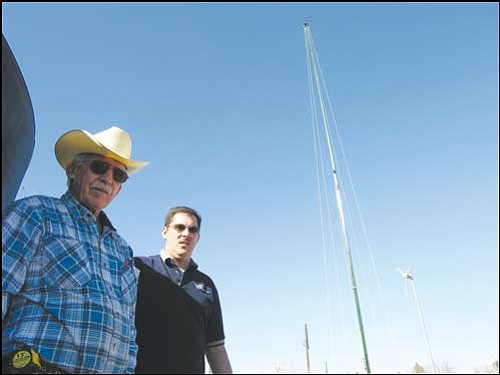 JAMES CHILTON/Miner
Paul Levesque and John Kirby stand in the yard of Dr. John Lingenfelter's home at 1080 Riata Valley Road. Behind them, their 43-foot telescopic tower stands, several yards away from Lingenfelter's own 33-foot Skystream 3.7 wind turbine. Kirby and Levesque hope to place an anemometer atop their tower to measure wind speeds at Lingenfelter's home over the next month, in order to get an idea of why the turbine is producing only a fraction of its advertised capacity.
Stories this photo appears in:

Kingman wind turbine has produced $80 worth of electricity since April
Rumors of Kingman's windiness may have been greatly exaggerated. That, at least, has been the experience for Dr. John Lingenfelter.Lingenfelter made ink in late April, when he became the first Kingman resident to purchase a Skystream 3.7 wind turbine for his home at 1080 Riata Valley Road. At the time the man who sold Lingenfelter the turbine, Scott Travis, told the Miner that the Skystream could be expected to produce anywhere between 30 and 85 percent of the doctor's electricity each month.
By James Chilton
January 13, 2009