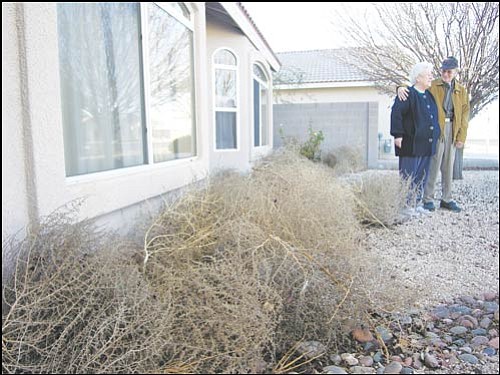 JAMES CHILTON/Miner
Septuagenarian couple Patricia Miller and Leo Jackowick must routinely contend with the piles of tumbleweeds that collect in front of their home on Walleck Ranch Drive.
Stories this photo appears in:

Patricia Miller and her husband Leo Jackowick can always tell when there have been heavy winds. All they have to do is take a look at the front of their house on Walleck Ranch Drive.If there's a huge pile of tumbleweeds that means it's been windy."It isn't a one-time thing, it's every time," Miller said. "My house, it's like a wind tunnel."Tumbleweeds are hardly a new phenomenon to Kingman residents, or to the Southwest in general. Ever since the salsola plant genus first hitched a ride to America in the mid 19th century, their dried up remnants have proven a consistent nuisance to ranchers and suburbanites alike.
By James Chilton
January 16, 2009