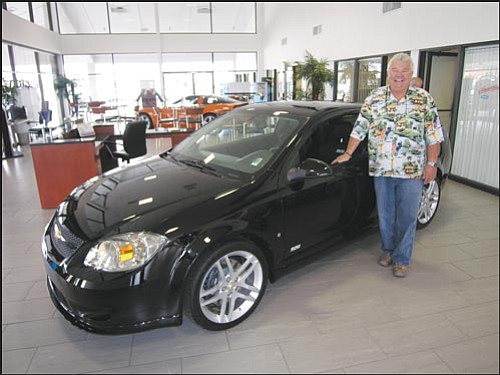 JAMES CHILTON/Miner
Hank Nolte, the general manager of Cliff Findlay Auto Center, stands next to a Chevrolet Cobalt parked inside the sales office at 3730 Stockton Hill Road Thursday morning. Nolte said the Cobalt was a prime example of the kind of high-quality, high-mileage vehicle that General Motors would be producing more of, following its bankruptcy and subsequent restructuring.

Stories this photo appears in:

Findlay Auto Center sales up from year ago, general manager says
When Hank Nolte started working at for Clifford O. "Pete" Findlay's Oldsmobile dealership at age 18, he never dreamed he would live to see a time when General Motors was anything but a successful car company.
By James Chilton
June 5, 2009