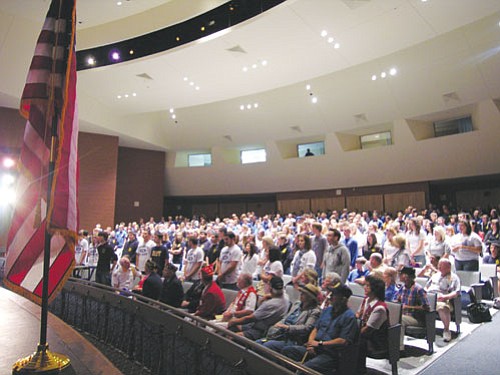 JAMES CHILTON/Miner
Almost all the Kingman High School students in attendance at the school's Tuesday Veterans Day tribute ended up standing when Principal Pat Mickelson asked for anyone who has a veteran in their family to do so. Click here to purchase this photo
Stories this photo appears in:

It was a solemn scene in the Kingman High School auditorium Tuesday morning as Principal Pat Mickelson introduced the school's 13th Annual Veterans Day tribute assembly with a sober acknowledgement of last week's shootings at Ft. Hood, just outside of Killeen, Texas."As a daughter of a career Air Force pilot and the wife of a Marine pilot, I have lived on or near many different bases in my life," Mickelson said, speaking before an audience of several dozen local veterans and many more KHS juniors.
By James Chilton
November 11, 2009