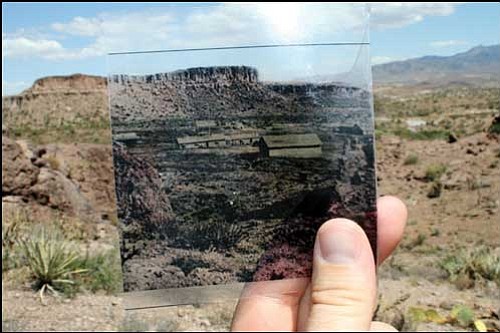 Courtesy
Kingman Area Chamber of Commerce Tourism Director Joshua Noble superimposes a historic photo of Camp Beale Springs over the modern-day location in Kingman. Noble hopes to use such old photos to draw geocachers - GPS-using treasure hunters - to various historic points of interest in and around the city.
Stories this photo appears in:

Centuries ago, swashbucklers used to rely on the letter X to mark the spot of buried treasure. But today, a new breed of high-tech treasure hunters prefers to use three other consonants to mark their quarry - GPS.Joshua Noble is the director of tourism for the Kingman Area Chamber of Commerce. For the past two months, he too has joined the ranks of latter-day treasure hunters, who rely on online networking and GPS positioning coordinates to share what they call "geocaches" - small, often out-of-the-way collections of photos or other small trinkets hidden all over the world.
By James Chilton
September 11, 2009