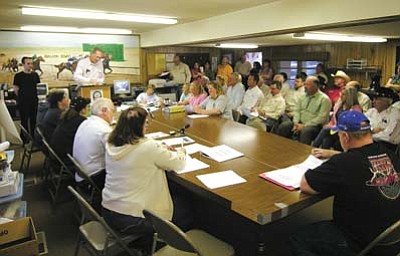 JAMES CHILTON/MinerMohave County District I supervisor Gary Watson (left, at podium) addresses members of the County Fair Association's Board of Directors Thursday evening while Kingman Mayor John Salem (right, green shirt) and more than a dozen members of the Kingsmen look on. Both Watson and Salem successfully argued in favor of the board allowing the Kingsmen to host the 25th annual Andy Devine Days Rodeo on its traditional last September weekend, even though the dates come just one week after the conclusion of the county fair. Normally, the fair association requires at least two weeks between events to allow for adequate cleanup and setup time.
Stories this photo appears in:

Agreement hammered out in Thursday meeting
After nearly an hour of heated discussion peppered with accusations and grievances, the Mohave County Fair Association's Board of Directors agreed Thursday to allow the Kingsmen to hold the Andy Devine Days Rodeo at the fairgrounds on its traditional date, just one week after the county fair concludes.
By James Chilton
April 11, 2010