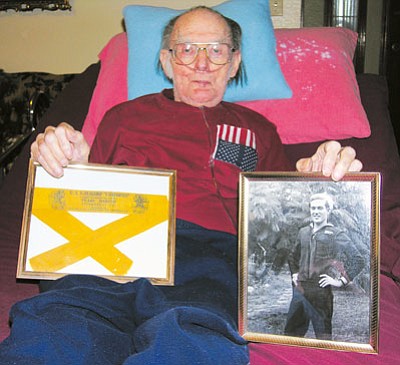 JAMES CHILTON/MinerPearl Harbor survivor William S. Cronan III pictured at his Kingman home Thursday holding two family heirlooms. The first is a sample of ribbon taken from Pearl Harbor the day his father's ship, the U.S.S. California, became the first warship to enter the harbor on Dec. 14, 1911. The second is a photograph of Cronan himself taken in 1945, when he was a fireman in the Navy serving on the repair ship U.S.S. Maui. Cronan's father, Lt. Cmdr. William Cronan Jr., won the U.S. military's highest decoration, the Medal of Honor, for helping to save his comrades' lives following a boiler explosion onboard the U.S.S. Bennington on July 21, 1905.
Stories this photo appears in:

Cronan saw the zeros fly in 1941 at Pearl Harbor
Kingman resident William S. Cronan III had a history with Pearl Harbor long before he awoke the morning of Dec. 7, 1941, the day the Imperial Japanese Navy would bomb the U.S. Pacific fleet stationed there, prompting America's entry into World War II. Cronan's father, Medal of Honor recipient William Cronan Jr., had been aboard the U.S.S. California, the very first warship ever to enter the harbor when it made its arrival nearly 30 years earlier.
By James Chilton
December 5, 2010