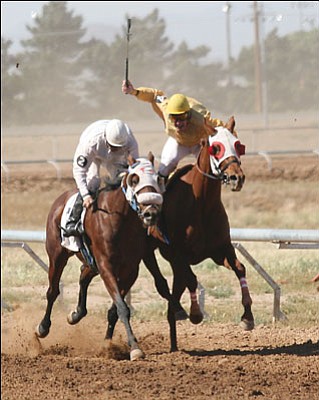 JC AMBERLYN/Miner
Jaybob (ridden by Daniel Gutierrez, on left) and Cinco Pesos (ridden by Lavar Mower) race neck and neck toward the finish line at last year's 43rd Annual Hualapai Downs event at the Mohave County Fairgrounds.
Click here to purchase this photo
Stories this photo appears in:
Annual races cancelled for now
The economy has claimed another victim. This time, it's what would have been the 44th Annual Hualapai Downs horse racing at the Mohave County Fairgrounds.Fairgrounds manager Errol Pherigo said the event, which normally runs for two consecutive weekends in the spring, was scaled back to just one weekend last year because of reduced funding and lost $1,700, whereas the previous 42 years the races had turned a profit.
By Erin Taylor
February 19, 2010