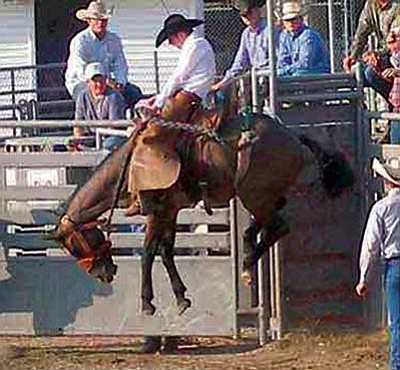 Morrow and Hammond Families/Courtesy -- Lat Morrow rides a bronco during a ranch rodeo last year. Morrow was severely injured last month while riding a bronco during a similar rodeo in Colorado.
Stories this photo appears in:

Newlywed Morrow suffered severe injuries in ranch rodeo
The life of a cowboy is just as hard as it was in the Wild West. It's a 24-hour-a-day, seven-days-a-week job that involves working with heavy animals and equipment, sometimes for very little pay. And being a cowboy today can be just as dangerous as it was 100 years ago, as Lat Morrow found out on June 19 when he was severely injured during a ranch rodeo in Colorado.
By Suzanne Adams-Ockrassa
July 18, 2010