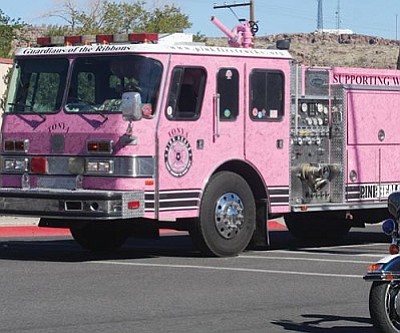 JC AMBERLYN/MinerThe "Pink Heals" 2010 fire truck tour stopped in Kingman Tuesday at Locomotive Park. Cancer survivors and their supporters gathered to walk down Beale Street with three pink fire trucks, then listen as a ceremony was held. The fire trucks were part of a nationwide tour to promote love and respect for women and all cancer survivors. For more information, visit their website at www.pinkfiretrucks.org.
Stories this photo appears in:

Local cancer survivors show support for national tour
Even though it was the middle of a weekday - and an election day - several hundred cancer survivors and their family members came out to show support for the Pink Heals Tour, a group of several pink fire trucks traveling the country to raise cancer awareness.
By James Chilton
November 4, 2010