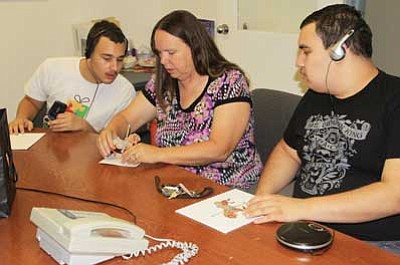 JC AMBERLYN/MinerJoan Bandel works on an art project with Cosena and Kerry Barnett. Bandel will receive an award from the Arizona Division of Developmental Disabilities for her work with the boys and one other child with autism in Kingman.
Stories this photo appears in:

As is a private caregiver that provides respite and rehabilitative care for two families with children that suffer from autism, Joan Bandel has one of the most challenging and demanding jobs in the city, and she loves every minute of it. In honor of all of her hard work, Bandel will be presented with the Department of Economic Services Division of Developmental Disabilities Caregiver of the Year Award in Phoenix on Sept. 14.
By Suzanne Adams-Ockrassa
August 11, 2011