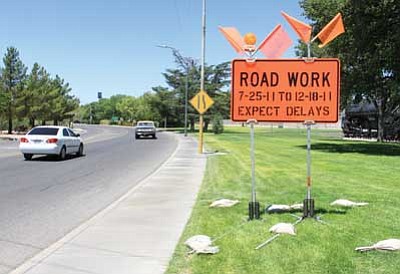 JC AMBERLYN/MinerA sign warns motorists of upcoming construction work near Locomotive Park Thursday. The work that includes Coyote Pass starts at Grandview Avenue in downtown Kingman.
Stories this photo appears in:

Actual repaving won't start for a few weeks; project work will wrap up in mid-December
The long-awaited road repair of an area of U.S. 93 known as Coyote Pass starts Monday and will continue into December.Arizona Department of Transportation spokesperson Michele Beggs said the actual repaving of 7.5 miles of road between Grandview Avenue and Ranch Road won't start till mid-August.
By Ahron Sherman
July 22, 2011