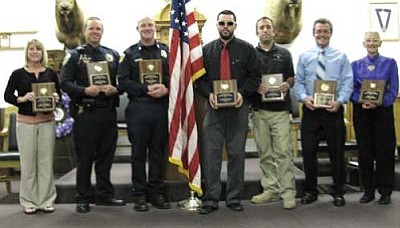 CourtesyKingman Elks Lodge No. 468 presented The Public Service Awards April 26 with 42 members of the public attending. Proudly displaying their plaques are Lisa Workman, health care professional; Dennis Miller, Kingman police officer; Tanner Miller, Kingman firefighter; Alexandro Valez, scouting leader; John Somma, Mohave County employee; Ronnie McPherson, educator; and Rose Gala, community volunteer. Not shown are Mike Meersma, Kingman city employee, and George Gilbert, spiritual leader. For more information, call (928) 692-8770.
Stories this photo appears in:

The latest news and happenings from the community's clubs.