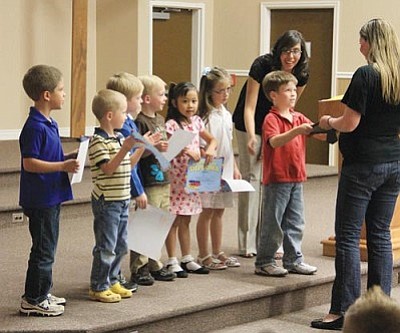 JC AMBERLYN/MinerEmmanuel Christian Academy held a Graduation and Closing Program Thursday to celebrate kindergarten and eighth-grade graduations. Here, kindergartners in Liz Cline's class present an award of thanks to Holly Baugh, a parent volunteer who helped the class.
Stories this photo appears in:
Seniors' farewells at Mt. Tipton, KHS today, Wednesday
Albert Einstein once said, "Learn from yesterday, live for today, hope for tomorrow."Mount Tipton High's graduating class of 2011 adopted Einstein's quote as its motto.Tonight, 13 seniors will leave Mount Tipton behind as Journey's "Don't Stop Believin'" plays over the sound system, and their parents, relatives and friends shed tears, beam with pride and see them off to the next stage of their lives.
By Ahron Sherman
May 24, 2011