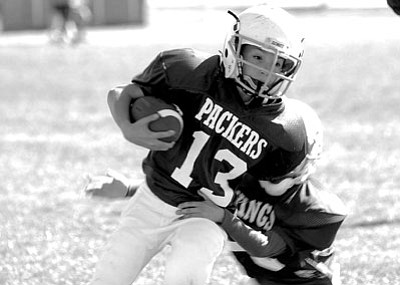 RODNEY HAAS / MinerThe Packers' Cole Stutler gets tackled during their game against the Vikings on Saturday. The Packers finished regular season 5-0 and will play the winner of the Raiders/ Chargers in the playoffs.
Stories this photo appears in:

Noah Grimm had two touchdowns including a 75-yard kickoff return as the Packers improved to 5-0 with a 33-7 win over the Vikings Saturday in regular season week finale of the Kingman Youth Football League.
By Rodney Haas
November 3, 2011