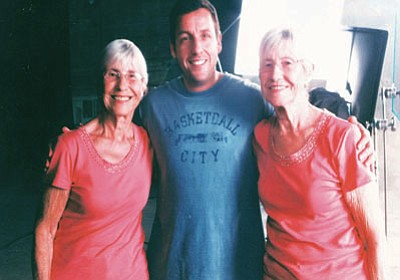 Courtesy
Patty Olson, left, and her twin sister, Kingman resident Diane Sturm, met "Saturday Night Live" alumnus Adam Sandler during filming for his movie about a set of twins.
Stories this photo appears in:

An 82-year-old Kingman woman and her identical twin sister make their acting debut in a new Adam Sandler movie releasing this week. "Jack and Jill" is the story of two fraternal twins with both the brother and sister roles played by Sandler. The movie includes appearances by multiple sets of twins, including Diane Sturm and her sister, Patty Olson, who lives in California.
By Erin Taylor
November 9, 2011