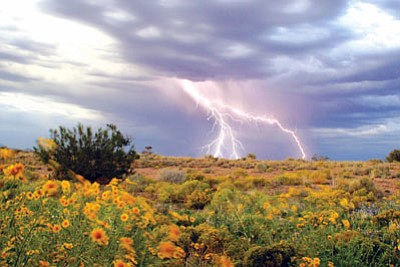 HERBERTA SCHROEDER/CourtesyFriday's storm facing north from a wash in the foothills of the Hualapai Mountains. Stormy weather and cooler temperatures are in the forecast for much of the rest of the week.
Stories this photo appears in:
Break out an umbrella and throw on a long-sleeved T-shirt. This week's weather forecast is full of wet and cool days."This is the first major cold storm of the season," said National Weather Service Meteorologist Clay Morgan. "But it shouldn't stick."This week's weather is a huge change, but it should start warming up again next week, he said.
By Ahron Sherman
October 4, 2011