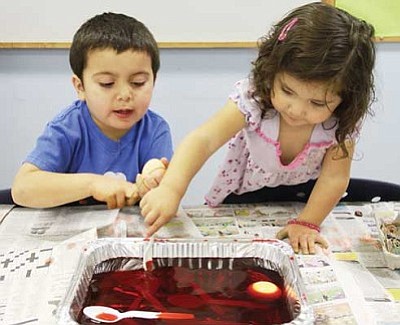 JC AMBERLYN/MinerMohave County Library Kingman held an Easter Egg Coloring event for kids recently. Here, Jaden Najar, 3 (left), and Rihanna Bates, 2, color eggs. The next library program will be a "Visual Space Tour" teaching about the solar system. This will be held from 6-7:30 p.m. April 25 at 3269 N. Burbank St.
Stories this photo appears in:
Fun begins with bunny breakfast on Saturday
Easter may be Sunday, but the fun begins Saturday.First, there's Breakfast with the Bunny brought to you by the Kingman Recreation Department and Golden Corral. From 8-10 a.m. Saturday, you can bring the whole family down to Golden Corral, 3580 Stockton Hill Road, to have a community breakfast with the Easter Bunny.
By Ahron Sherman
April 6, 2012