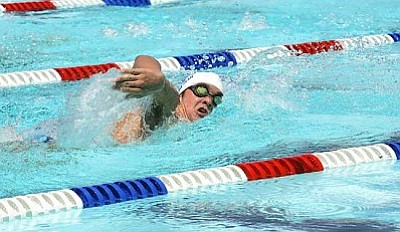 RODNEY HAAS/MinerKingman Dolphin swimmer Patrick Webb competes in a freestyle heat during the regional swim meet on July 7. Webb qualified for the finals in the 400-meter and 1500 freestyle and 200 butterfly at last weekend's Senior State Meet in Phoenix. He also set new Dolphins team records in the 1500, 800, 400 and 200 freestyle, 400 individual medley and 200 butterfly.
Stories this photo appears in:

The Summer Olympics and trials leading up to them thrust the sport of swimming into the spotlight every four years.
By Rodney Haas
July 20, 2012