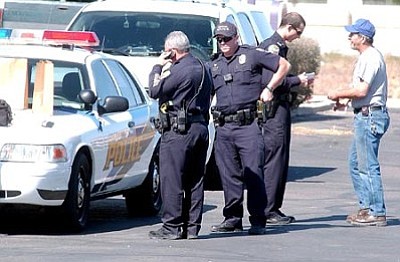 RODNEY HAAS/Miner
Kingman police gather evidence and interview witnesses after an armed robbery at Flying J on Route 66 in east Kingman Saturday. The suspect was captured at the scene.
Stories this photo appears in:

Armed robber leaves Flying J empty-handed
No one was injured when an armed robber fired several shots across the parking lot of a truck stop he had just tried to rob.The incident took place Saturday at the Flying J in the 3300 block of Andy Devine Avenue. Kingman Police Capt. Rusty Cooper said the suspect, later identified as 39-year-old Stephen Conrad Johnson, entered the truck stop around 11 a.m. and flashed a gun while demanding money from the cashier.
By Erin Taylor
March 11, 2012