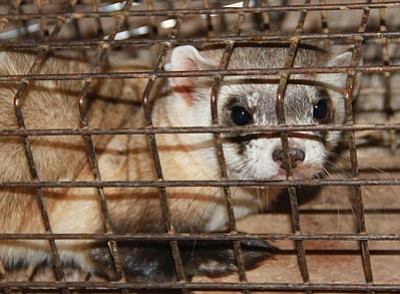 The black-footed ferret is a member of the weasel family. It depends on prairie dogs for both food and shelter (it lives in prairie dog burrows). When prairie dogs were almost wiped out in the early 1900s, the ferrets declined with them. Black-footed ferrets were believed extinct until a small population (at one point consisting of 18 individuals) was discovered in Wyoming in 1981. Through captive breeding programs, the ferrets' numbers have increased and populations have been reintroduced in several states. There are now over 1,000 ferrets in the United States and Mexico, with four self-sustaining populations, including the one near Seligman.
Stories this photo appears in:
Volunteers lend a hand during Aubrey Valley count
The Arizona Game and Fish Department recently finished conducting a five-night volunteer spotlighting event near Seligman as part of its twice-yearly survey of wild black-footed ferrets.This highly endangered mammal was reintroduced in the Aubrey Valley near Seligman because of high numbers of its main prey, the prairie dog, and suitable habitat. The ferret population is now self-sustaining and the AZGFD continues to monitor its health and numbers. Check out www.kingmandailyminer.com for a new video on the spotlighting efforts.
By JC Amberlyn
March 19, 2012