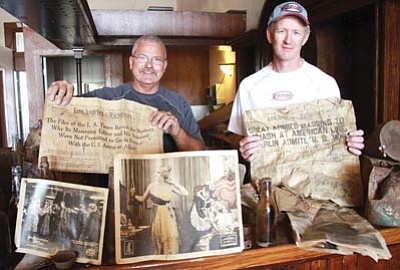 JC AMBERLYN/Miner
Robbie Wright and Kevin Morgan of Axiom Remodeling display some of the items found during demolition work.
Stories this photo appears in:

A 1918 Los Angeles Times headline exclaims that the end of World War I is near. Empty tin cans used to store cigars are covered in dirt - their contents smoked decades ago. Several empty bottles of Sunny Brook Bourbon sit on a counter, their wooden corks jutting out from their glass lips.This isn't a tour of the local museum. Workers with Axiom Remodeling unearthed these items as they demolished portions of the building next door to Hotel Brunswick.
By Ahron Sherman
October 24, 2012