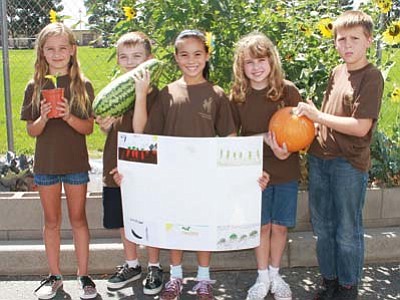 SUZANNE ADAMS-OCKRASSA/Miner
Kingman Academy of Learning Intermediate School students (from left to right) Laken Moulder, Cody Ballard, Amelia Brackett, Jessica Gerdes and Austin Henson stand at the school with posters they created for the upcoming Mohave County Fair. They were the winners in a school art contest to draw their dream garden. Their winning posters will be at the fair, which starts Thursday at the Mohave County Fairgrounds.
Stories this photo appears in:
Ground crews and volunteers have been working since late August, scrubbing, weeding and painting the fairgrounds in order to get them ready for the 66th Annual Mohave County Fair Thursday.This year's fair promises to have more exhibits, more entertainment, more rides, more vendors and free Wi-Fi.The events start at 9 a.m. Thursday with a flag-raising and ribbon cutting. The fair is open from 8 a.m. to 10 p.m. Thursday through Saturday and from 8 a.m. to 5 p.m. on Sunday. The cost is $5 for those ages 12 and up, $2 for seniors age 65 and up and $2 for children ages 4 to 11. Children under 3 get in free.
By Suzanne Adams-Ockrassa
September 12, 2012