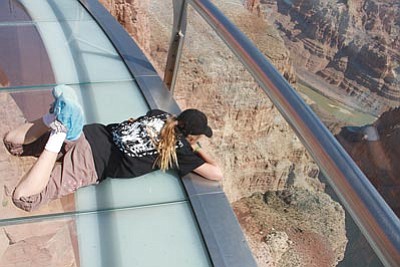 JC AMBERLYN/Miner
Drew Stephenson, 11, sprawls out on the Grand Canyon Skywalk in April to take in the view thousands of feet below.
Stories this photo appears in:

Risky business for tribe
The Hualapai Tribal Council could lose the Skywalk as the eventual result started by the recent $28.6 million ruling by an arbiter. Also at risk: The respect of some of its tribal members over the seizure of the famous landmark's contract by eminent domain. One former council chairwoman called the whole incident an embarrassment to the tribe. And a former tribal corporation board chairman called the council's actions "inappropriate" and warned they could scare off future investors.
By Suzanne Adams-Ockrassa
September 16, 2012