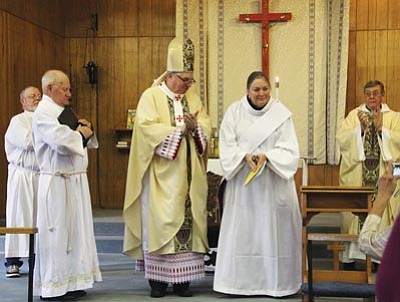 JC AMBERLYN/Miner
Officials with the Independent Catholic Church gathered in downtown Kingman for the ordination ceremony making Karen Furr a deacon. From left during the ceremony Saturday are Keith Harvey, Bill LeClair, Archbishop Michael Hillis, Deacon Karen Furr and Father Leonard Walker.
Stories this photo appears in:
Karen Furr was ordained a deacon of the Independent Catholic Church Saturday in downtown Kingman. Archbishop Michael Hillis presided over the ceremony, which was held by the Divine Savior Catholic Community. The entire church community approved of Furr becoming a deacon recently and she is the first deacon of the church to be ordained in Kingman.
By JC Amberlyn
February 4, 2013