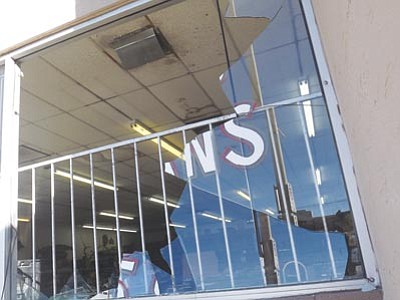 AHRON SHERMAN/MinerSomeone used an ax, which was left at the scene, to break into A & P Pawn early the morning of Dec. 20, and make off with several handguns and pieces of jewelry.
Stories this photo appears in:

A $500 reward is being offered by Mohave Silent Witness for information on a break-in last month at A & P Pawn in downtown Kingman. Up to 15 handguns were stolen in the early morning burglary Dec. 20 after someone broke one of the storefront's windows with an ax and climbed the protective metal barrier to enter the store.
By Erin Taylor
January 14, 2013