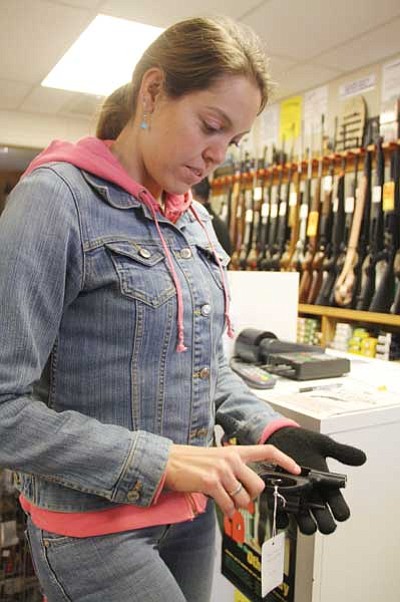 JC AMBERLYN/Miner
A number of men, women and families went to On Target Enterprises in Kingman Saturday for "Gun Appreciation Day." There was a barbecue and gun sales all day at the store, which saw brisk business during the event dedicated to letting their "customers know we appreciate them and their guns." Here, Lisa Waner takes a look at a Ruger 22. She was considering a handgun purchase for self-defense.
Stories this photo appears in:
President Barack Obama proposed several gun control measures last week and issued 23 related executive actions, including the issuance of three presidential memoranda, but other than boosting gun sales, the effect in Kingman and Mohave County remains to be seen.Among the recommendations that would need Congressional approval to become law, the proposals to reinstate 1994's "assault weapons" ban and place limits on ammunition magazines are the two pieces that have received the most opposition, sending people to gun stores in droves."People are buying ammunition faster then (manufacturers) can make it," said Darrell Miller, owner of Bank Street Guns.
By Ahron Sherman
January 20, 2013