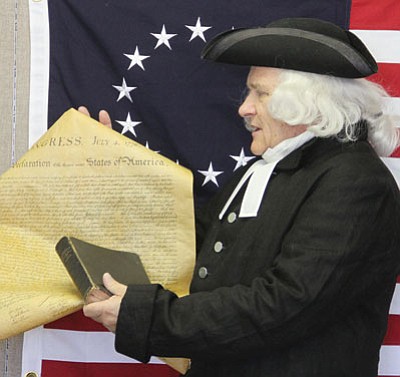 Grif Vautier, dressed as historical figure Jonathan Witherspoon, displays the Declaration of Indpendence at Kingman Presbyterian Church. Witherspoon was the only clergyman who signed the document in 1776. Vautier will give two presentations in Kingman during July.JC AMBERLYN/Miner
Stories this photo appears in:

The Rev. John Knox Witherspoon, portrayed in costume by retired Kingman Presbyterian Church pastor Grif Vautier, proudly holds up a copy of the Declaration of Independence and his well-worn Bible as he stands between two flags in the church's fellowship hall.
By Kim Steele
July 2, 2013