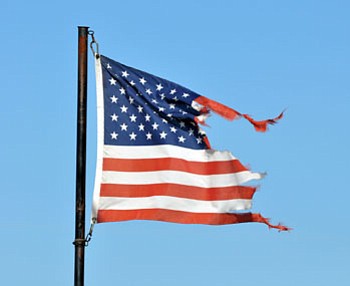 This flag is a prime example of residents wanting to show their American Spirit and pride in our Nation by flying the Stars and Stripes, but forgetting to take it down when its condition becomes not fit to be flown. It is conservatively estimated that more than half of the American flags being flown in Mohave County should have already been replaced due to being worn and tattered.
Stories this photo appears in:
Note from the skipper of Butch's Brew: I wrote about flag etiquette a few years ago and explained in-depth the proper procedures for flying Old Glory, and my article was published in the KDM early last year. Because I've noticed people are again violating the spirit of the U.S. Flag Code, I decided to update my original blog and republish it. Here is a question most American citizens cannot answer: there is only one place Old Glory is never flown at half-staff. Do you know the answer? Email me your answer to butchsbrew@frontier.com and I'll email you back telling you if you're correct and if not, what the correct answer is.
By Butch Meriwether
March 3, 2013