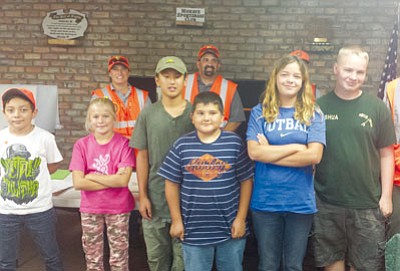 DON MARTIN/For the Miner
Honor graduates of Hunter Education class R-2-2014 are, from left, Joshua Cox, Katie Buhr, Garrett Geisler, Dante Amaya, Kalyse Whitehead and Josh Wallin. Instructors in back are Annette Bravo and Brian Powell, and Chief Instructor Jim Rich and Thomson Himes are not pictured.

Stories this photo appears in:
A number of local businesses continue to support the Arizona Hunter Education program by donating items or services that are given to the graduates of the classes.
By Don Martin
August 5, 2014