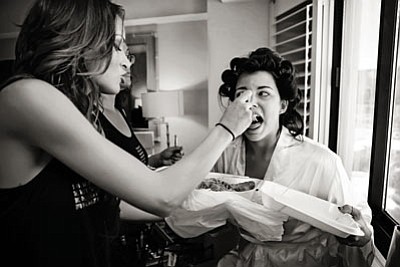 "There are so many spontaneous moments and if you're not ready or paying attention, you will miss out on wonderful memories like this one. I was taking some detail shots when I heard the bride begging for some food from one of her bridesmaids. The bridesmaid stepped in and started feeding her as if she were a baby, even making the mouth shapes and sounds as she did so! Meanwhile, the bride is in rollers and getting prepped. It's just a great moment that she will remember forever, yet likely didn't even notice at the time."– JoAnne Marino
Stories this photo appears in:

KINGMAN - Statistically, the U.S. marriage rate is declining, but that doesn't seem to be hurting the wedding industry's bottom line.
By Ryan Abella
August 29, 2014