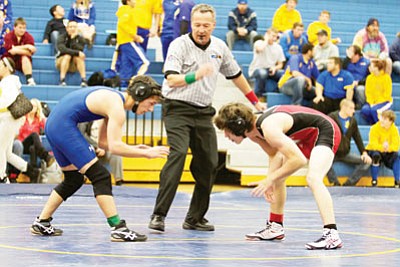 Lee Williams' Zachary Sanchez, right, lines up against Northland Prep's Shawn Myler Nov. 24 at Kingman High. Sanchez is 4-0 to start the season, including two wins Wednesday against Greenway and Mohave in Phoenix. (RYAN ABELLA/Miner)
Stories this photo appears in:

KINGMAN - It was rough going for Lee Williams Wednesday, with the Volunteers dropping two matches at the three-way dual against Mohave and Greenway in Phoenix.
By Miner Staff Report
December 5, 2014