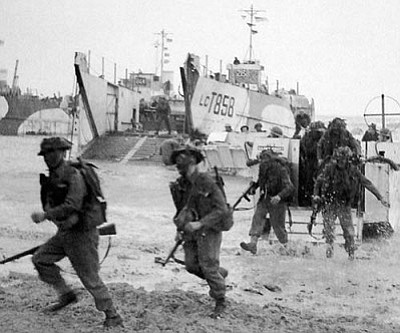 Sgt. Midgley/No. 5 Army Film and Photographic UnitTroops come ashore on Gold Beach (near La Reviere, France) on June 6, 1944, as part of Operation Overlord.
Stories this photo appears in:

The Associated Press had some two dozen writers and photographers among the Allied forces as they landed on Normandy's coast on June 6, 1944. From Gen. Dwight D. Eisenhower's London headquarters, Wes Gallagher - who later went on to become AP's top executive - wrote up the first Allied official dispatches announcing D-Day and sent them. Seventy years after its original publication, the AP is making Gallagher's original report available.
By Wes Gallagher
June 6, 2014