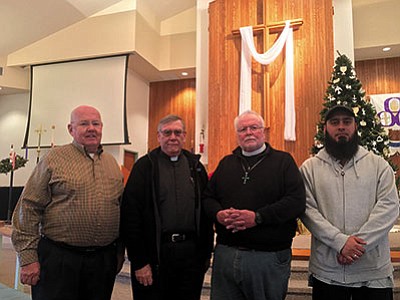 RYAN ABELLA/Miner
Clergymen representing four different faith communities are coming together to hold a service for peace in January. From left: Pastor Ray Christenson, Father Leonard Walker, Father Philip Shaw, and Imam Umar Farooq Mahmood.

Stories this photo appears in:

Informal Kingman 'ministerial association' includes Catholic, Episcopalian, Lutheran and Muslim
Tolerance is the antonym to prejudice, and four local faith leaders are uniting to bear witness to prejudice based on faith and to coming together as one community.
By Ryan Abella
December 29, 2015