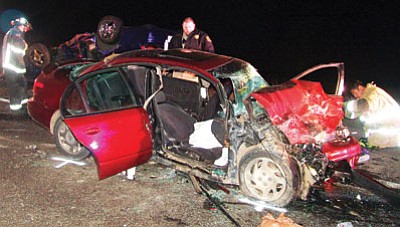 Courtesy
Golden Valley and Kingman firefighter-paramedics teamed up to rescue three adults and a child involved in a head-on collision Saturday night on U.S. 93. The driver of the other car, a Chevrolet sedan, might have been driving the wrong way on the highway.
Stories this photo appears in:
Wrong-way driver may have caused wreck
Four adults and a child were sent to Kingman Regional Medical Center Saturday night following a two-car head-on collision on U.S. 93.
By Doug McMurdo
January 26, 2015