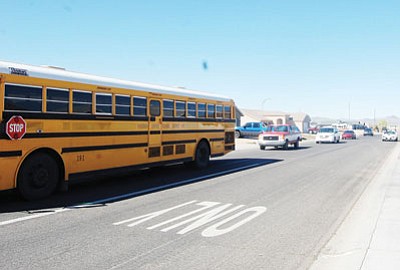 Traffic on Diamond Street off of Airway Avenue is a nightmare for the roughly dozen families that live on the one-way street. A left turn lane spans the driveways of two homes. A resident told the Miner that drivers often drive the wrong way, speed and fail to stop at the stop sign. (DOUG McMURDO/Miner)
Stories this photo appears in:

Public input will be solicited on proposed capital projects in east Kingman
Plans to build a railroad crossing at Airfield Avenue and to improve Airway Avenue between Prospector Street and Rancho Santa Fe Parkway - at a total estimated cost of about $17 million - are two of the largest capital projects the City Council discussed when preliminary budget talks took place last week.
By Doug McMurdo
March 9, 2015