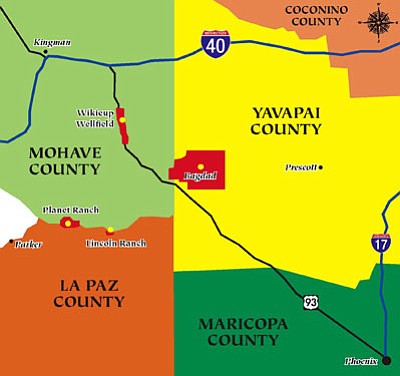 Mohave County has not given up on its fight to prevent the transfer of thousands of acre-feet worth of water rights associated with the Big Sandy and Bill Williams rivers. The Wickieup Wellfield lies entirely within Mohave County while rights assigned to Planet Ranch straddle Mohave and La Paz counties. Mining company Freeport Minerals, which owns the rights, will transfer them, and the water they represent, to the company's Bagdad Mine in Yavapai County. (SPARKY KNOWLTON/Miner)
Stories this photo appears in:
Congressman, Angius engage in heated exchange
KINGMAN - U.S. Rep. Paul Gosar opened his remarks to the Mohave Republican Forum Wednesday night by saying, "Whiskey is for drinking. Water is for fighting." Mohave County Supervisor Hildy Angius was happy to oblige.
By Doug McMurdo
March 13, 2015