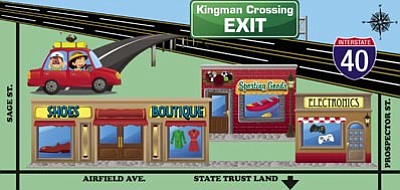 If ultimately built, the proposed Kingman Crossing development would add to the city's retail offerings and boost sales tax revenue. There are many concerns, however, including how many new businesses the community can sustain – and, of course, the impact on water supplies. (SPARKY KNOWLTON/Miner)
Stories this photo appears in:
Data from credit card purchases made at retail stores in larger communities show that for every pair of shoes purchased in Kingman, nine residents purchased their shoes somewhere else.
By Doug McMurdo
March 20, 2015