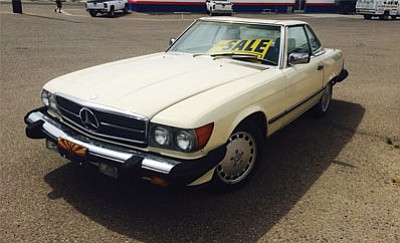 An older model Mercedes-Benz with a For Sale sign sits at a business. Used car buyers can protect themselves by doing a little research on a car before shelling out cash. (HUBBLE RAY SMITH/Miner)
Stories this photo appears in:

KINGMAN - As Mike Taflan advises his customers, if you're looking to buy a used car, unless you know the owner personally, take it to a professional to be checked out.
By Hubble Ray Smith
May 28, 2015