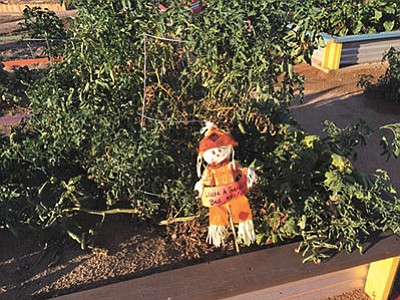 Dig It Community Garden: A member of the Dig It Kingman Community Gardens Steering Committee has leased two garden beds that are being maintained with the help of others. The two gardens have provided more than 100 pounds of vegetables for the food bank so far this short growing season. Next year, after a full growing season, the goals for these garden beds will be 200 pounds for the food bank. Planted in these two beds are zucchini, squash, tomatoes, several different kinds of peppers, and basil. Mike Roundy is the garden manager. He has a passion for growing things and can be seen at the garden almost daily making sure the garden is doing well. Give him a call at (928) 715-1165 if you would like to lease a garden bed, want a tour or need information. Please come by and say hello, see what's going on at the garden, check out our Facebook page at facebook.com/digitkingman, and don't forget to watch for the next community event we have planned in the garden. To the gardeners who are winter gardening – happy gardening!
Stories this photo appears in:

American Legion Family of Post 14: This week the kitchen team will begin its Fiesta Friday meals.