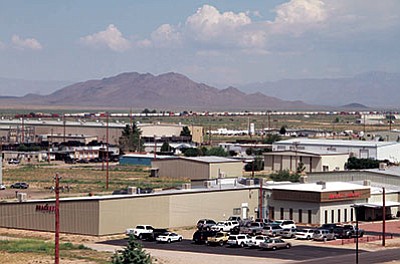 JC AMBERLYN/Miner
The Kingman Airport and Industrial Park, photographed here in 2012, is one of the key economic engines in Kingman, but Councilman Mark Abram and others want to strengthen the city's contract with the Kingman Airport Authority regarding performing standards. Airport Director Dave French said the authority has no intention of modifying the agreement, which doesn't expire until 2053.
Stories this photo appears in:
Airport authority won't change contract with city
An agenda item regarding the Kingman Airport Authority and its record in bringing new businesses to the airport industrial park was supposed to be removed from Tuesday's City Council agenda.
By Doug McMurdo
November 9, 2015