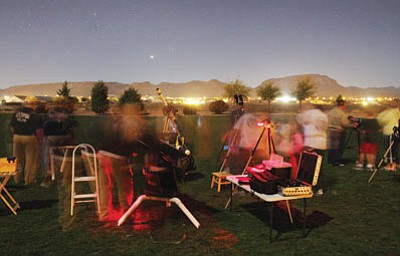 Members of the High Desert Astronomy Club stargazing in 2010. In this thirty-second night exposure, people can be seen as they look through various telescopes that members set up to look at stars, planets and other celestial sights. The Astronomy Club holds several Star Parties a year. Contact Dan at (928) 753-6744 or Leon at (928) 753-9949 for more information. (JC AMBERLYN/Miner)
Stories this photo appears in:
Project linked to Pluto traveler New Horizons
KINGMAN - Thanks to another grant and a set of telescopes stationed in Dolan Springs, Kingman Unified School District will continue to look up and study the stars for the foreseeable future.
By Ryan Abella
October 1, 2015